Twinkle baby quilt totally finished now. Made the label added a little embroidery embellishment and finishing touches. Yay. Pulled all the fabrics for "Dolly Days" quilt.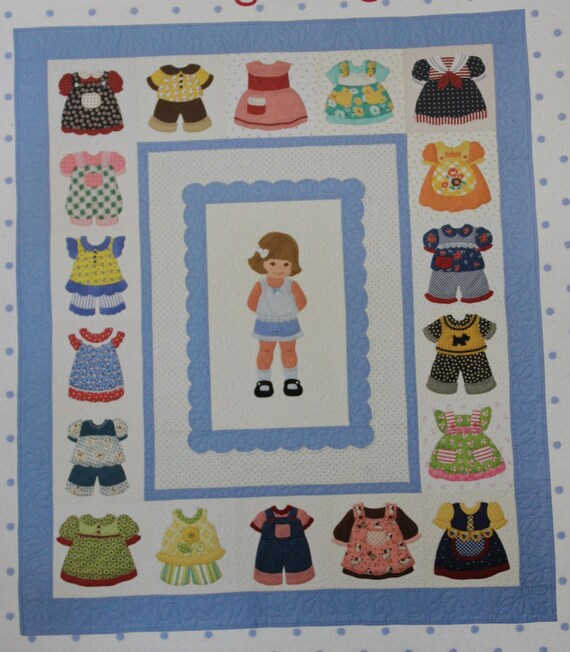 That took some time, doll and 18 outfits. What a wardrobe! All the while my thoughts are running to how do I quilt that kitty cat quilt? So to avoid messing up the quilt with my uncertainty, I made a pound cake from scratch.
I had watched an episode of Hometown and on that show they were making a pound cake from a recipe of the previous homeowner that was infamous. They did not give exact measurements of all ingredients but for some. Enough for me to search Pinterest for a similar recipe. So off I went and I did find one very similar so I printed it and made a couple of adjustments to match what I saw on tv and low and behold I made a fabulous pound cake. The recipe is a keeper for sure and I will be making it again. I also have variations running through my head. I'm not a big lemon person. Don't care for Lemon Meringue pie at all, and this recipe has an ingredient of 2 1/2 teaspoons of lemon extract. I have to say it was not over powering just a hint of lemon. Here is the recipe I found with notations of my modifications:
Grandma Mac's Perfect Southern Pound Cake from Kitchen of Deep South Dish
Source: http://deepsouthdish.com
all ingredients should be room temperature
cake inserted into cold oven (my variation)
3 cups all-purpose flour
1/2 teaspoon baking powder
1/2 teaspsoon kosher salt
1 cup (2 sticks) unsalted butter, softened at room teperature
1/2 cup vegetable shortening or 1 stick margarine, soften at room temperature *( i used 3 sticks unsalted butter)
3 cups granulated sugar
5 larges eggs, at room temperature *(I used 6)
1 cup whole milk or half and half
2-1/2 teaspoons vanilla or almond extract *(I used almond)
2-1/2 teaspoons lemon extract (I might try strawberry extract next time)
Preheat oven to 325 degrees F. * (I used cold oven method as described on Hometown tv show)
Butter and flour or prepare a 12-cup bundt pan with Baker's Joy baking spray; set aside. ( I used baking spray & cake stuck to pan so will butter and flour next time)
Whisk together the flour, baking powder and salt in a bowl; set aside. (see notes below on flour)
Beat the butter and margarine on medium speed until creamy. (so glad I have a stand mixer, lol)
Add the sugar 1/2 cup at a time and continue beating on medium until mixture becomes fluffy.
Add eggs, one at a time, blending each egg in completely before adding the next.
Reduce speed to low and begin to alternately add the flour mixture and the milk into the creamed butter, starting and ending with the flour, until all is fully incorporated.
Add the extracts and blend it in.
Pour the batter into the prepared pan and spread out the top evenly. Bake at 325 degrees F for about 1 hour and 10 minutes, or until a toothpick inserted into the center comes out clean. ( Per TV show put in cold oven and bake at 300 degrees F for 1- 1/2 hours)
Place the pan onto a cooling rack and cool the cake in the pan for 15 minutes before turning it out onto the rack to cool completely. (LOL mine stuck to pan and I had to wrestle it out)
Cook's Notes: My grandmother used Gold Medal flour for her cakes. I use White Lily. Sift flour, then measure. I use all butter (3 sticks) and omit the margarine.
Tip: When measuring flour for making cakes, stir or whisk flour in the bag or canister, then spoon it into the measuring cup to overflowing, using a straight edge to level off. Avoid scooping the measuring cup into the flour, which compacts the flour, causing you to use too much and resulting in a more dense and dry cake.
I hope you enjoy this great recipe either way you choose to make it. I was more than pleased with the result even with it sticking to my bundt pan. That little mishap did not alter the taste.
""""""""""""""""""""
Today my game plan is to start quilting the Kitty Cat quilt. I have ideas. I have discovered that while quilting an area that I know what I want to do, ideas start popping into my head for another area and before long it's done. I am limited due to my beginner skillset. But I am acquiring new confidence with each quilt I quilt on my Q16.
Have a wonderful day and I hope you try the pound cake recipe. I have decided it is now my go to dessert for church pot lucks. Can't wait to see how everyone responds to it.
Happy Stitches
Sissy